XBTS Decentralized trading platform
Trade cryptocurrencies at our leading-edge platform

TRADE ANYTIME.
ANYWHERE

Multi-chain
DECENTRALIZED EXCHANGE

TIME TESTED
BLOCKCHAIN PLATFORM
XBTS DEX & DeFi
Our reliable and user friendly platform offers all the tools necessary for trade, interexchange arbitration, DeFi, GameFi, staking, exchange, and holding cryptocurrencies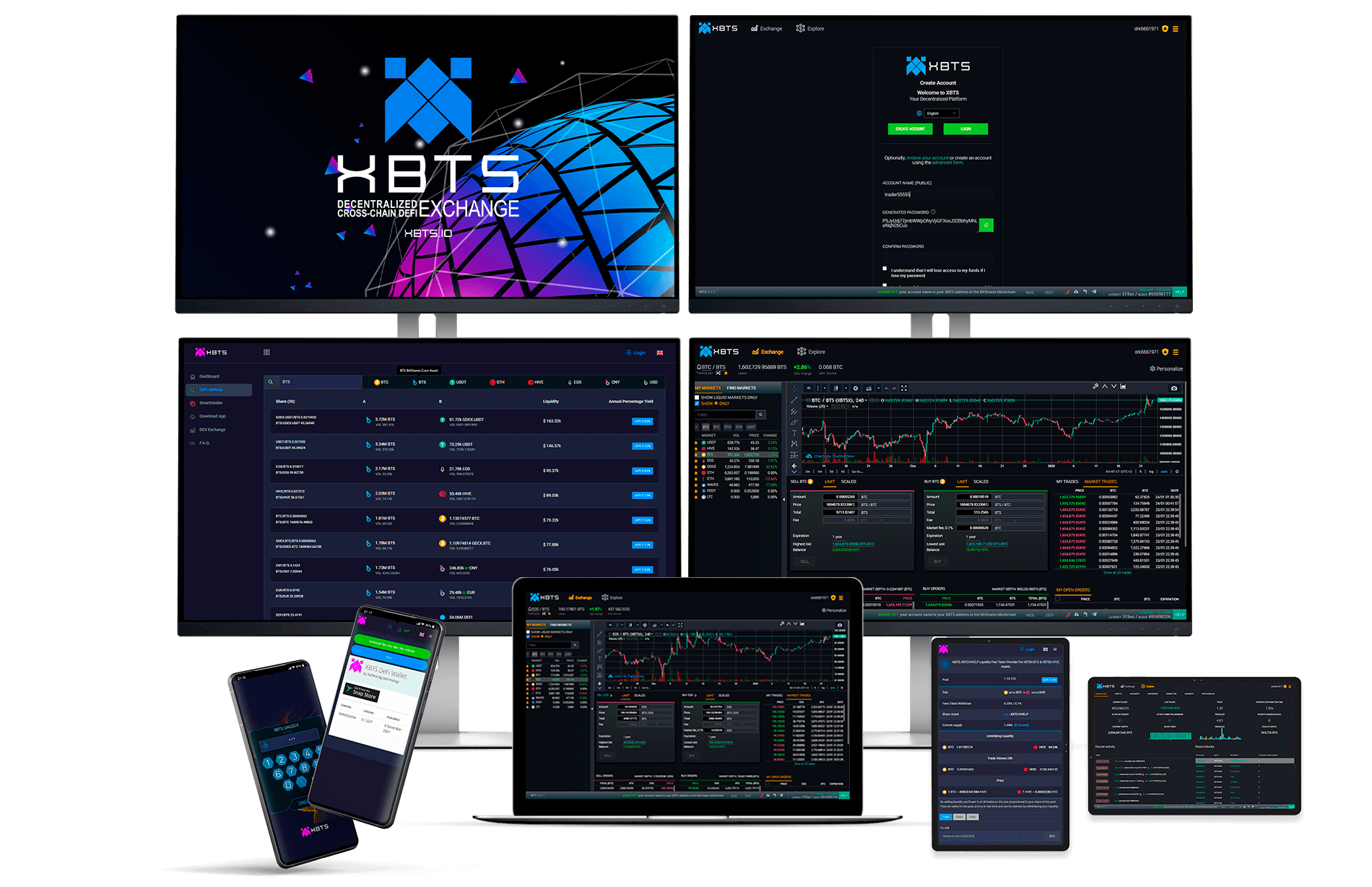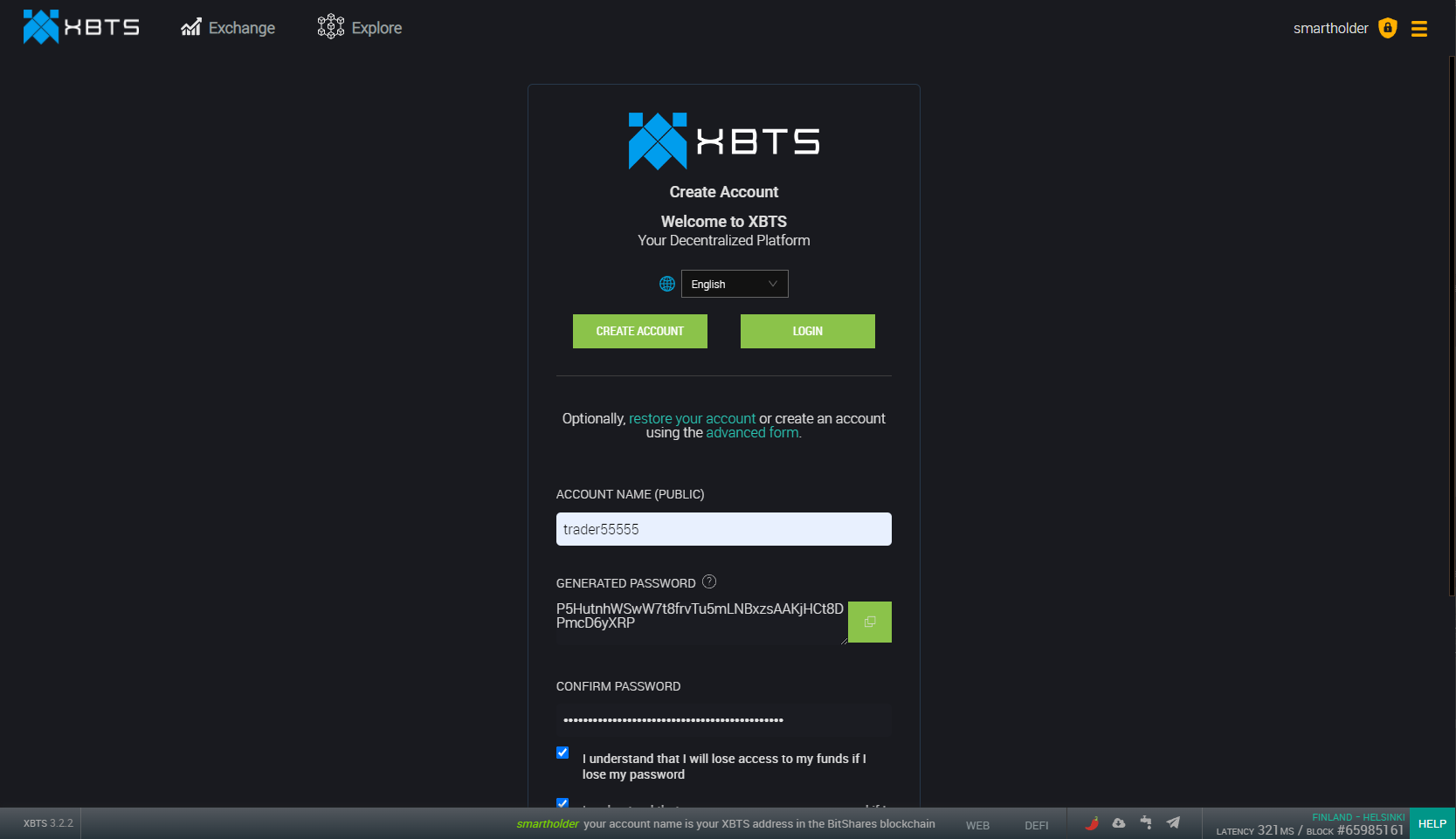 Account registration in a blockchain
Quick registration of a named account in a blockchain. No KYC/AML. SMS or email verification is not required. Your account is your address in BitShares blockchain. A secret phrase is provided by a blockchain during registration, keep it safe! The exchange does not keep your keys. Only you can access your account.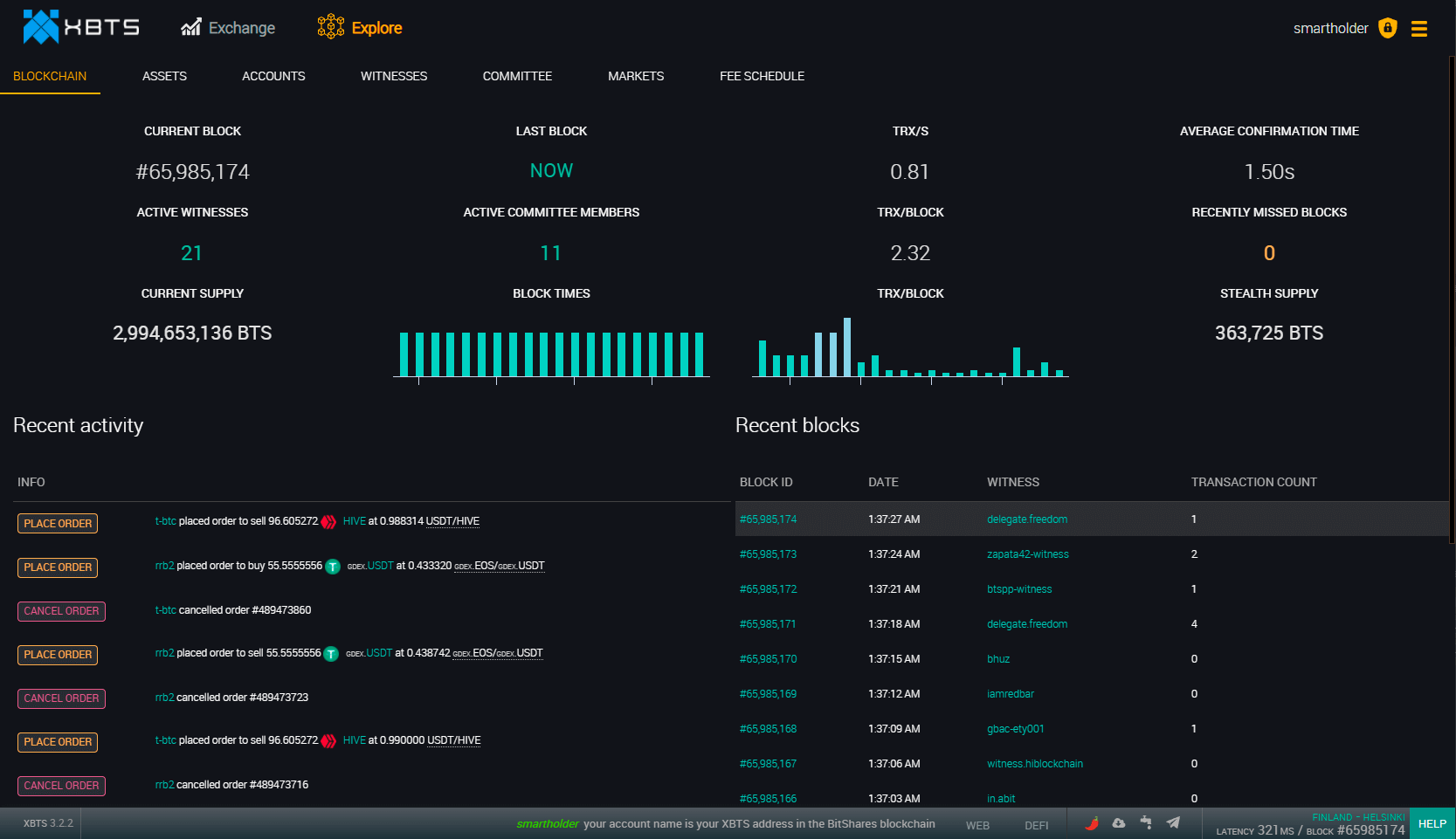 Integrated Block Explorer
All the transactions at the XBTS exchange take place in a blockchain. Account history cannot be changed because it is kept in a blockchain. You can view your account history in the Activity tab: putting transactions on and off, order management, cryptocurrencies transfer/deposit, liquidity pools transactions, airdrops, giveaways.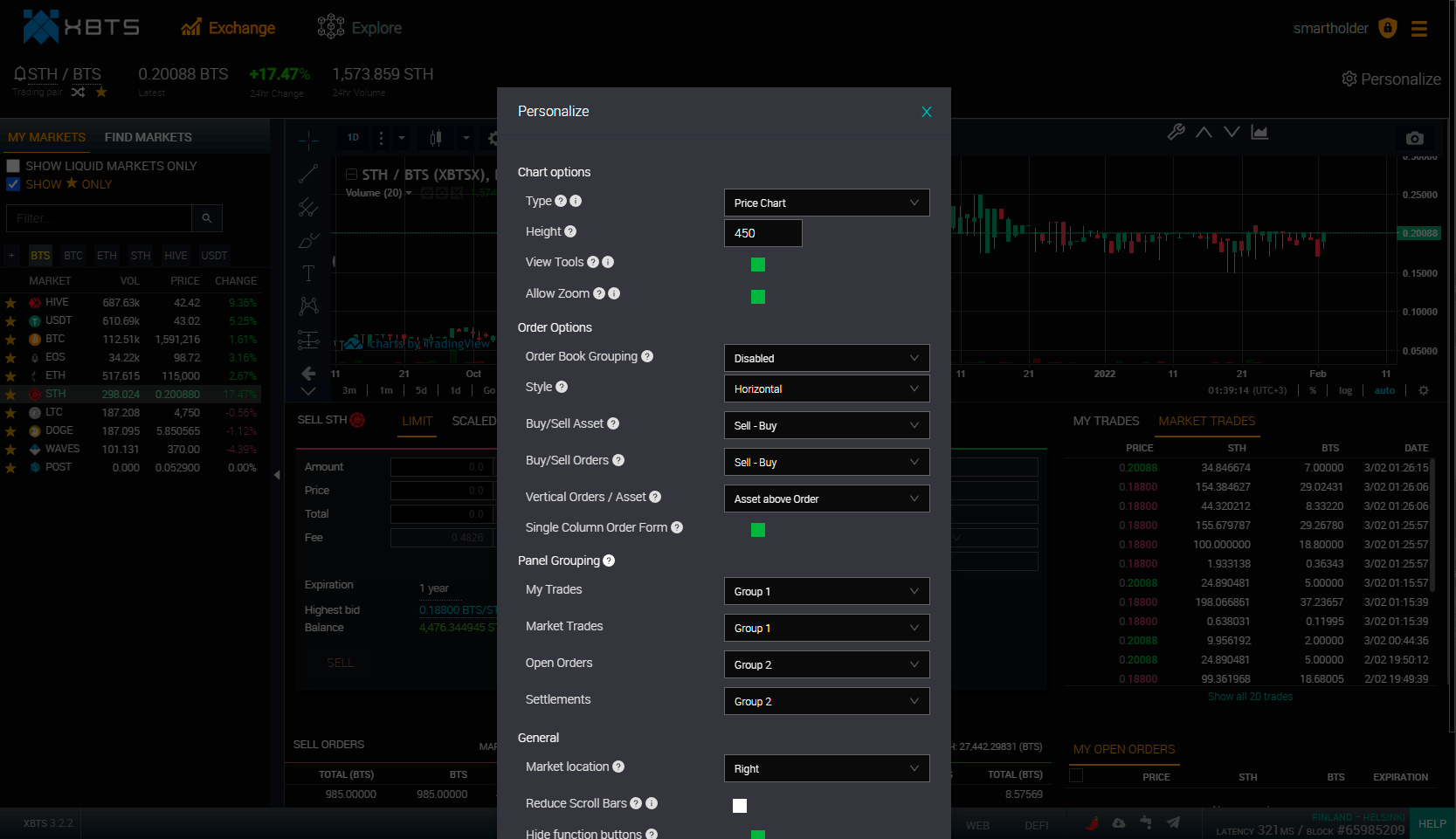 Customizable trading interface
Fully customizable trading interface with convenient graphs and a wide range of trade tools. The platform is available in 99% of countries of the world. In the interface, you can choose a nearest Node for quick operations in a blockchain.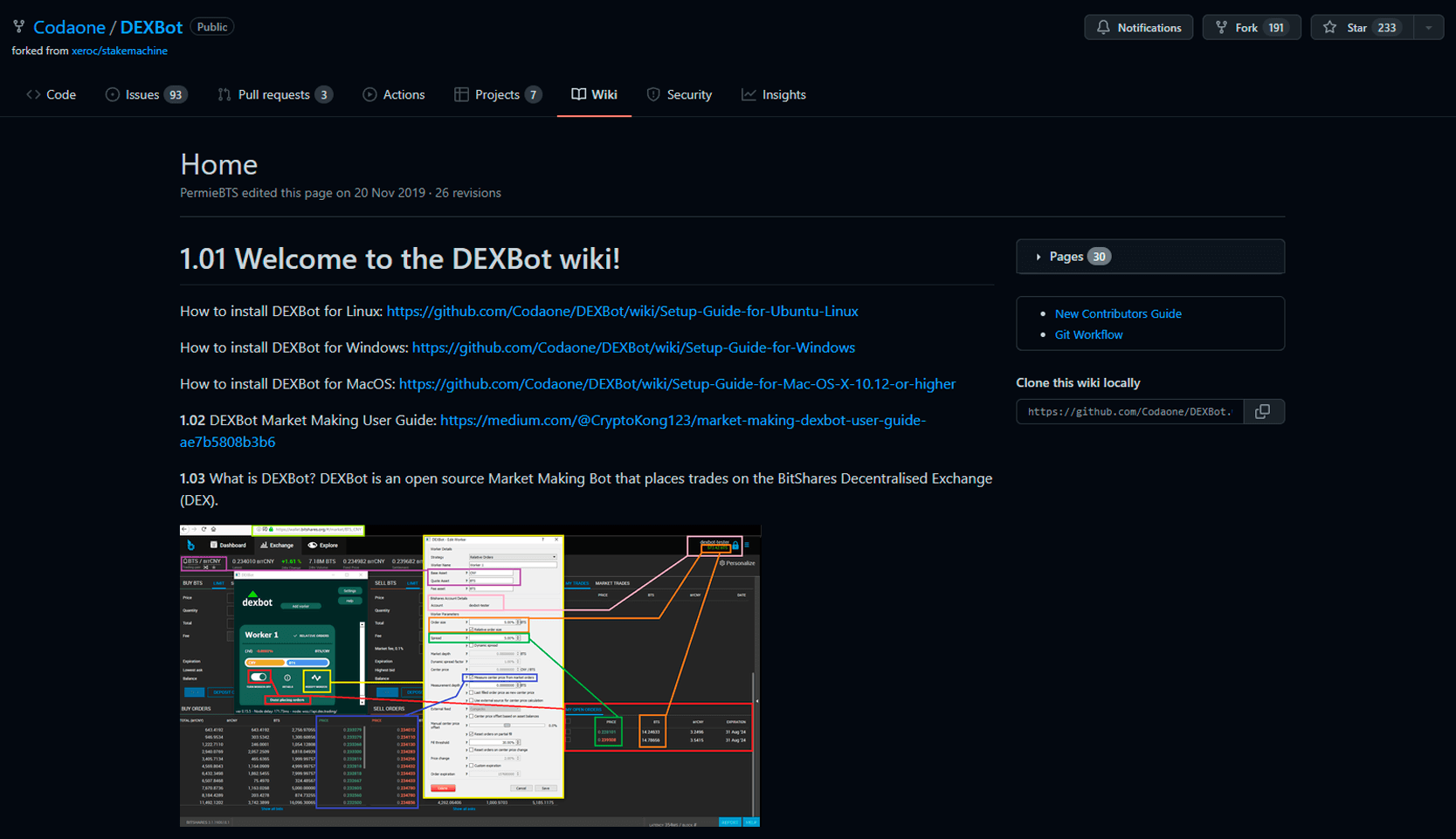 Free trading bots
A wide range of tools to automate your trade. Easy installation and settings for free trading bots. A wide selection of trading strategies. Create your own strategies. Increase your profit even when you sleep.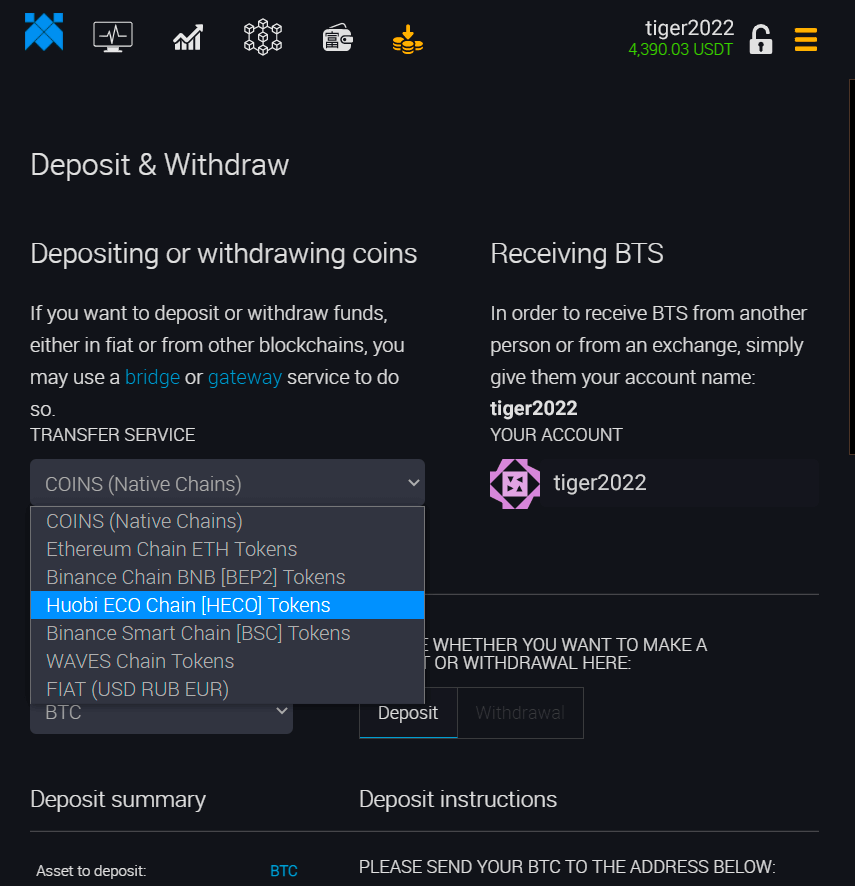 Cross-Chain bridges
XBTS provides a cross-chain bridges system for any trading strategies. Quick deposit and withdrawal to/from Binance Bep2, Binance Smart Chain BSC, Huobi ECO Chain HECO, Waves, Ethereum, and withdrawal to/from 42 native blockchains.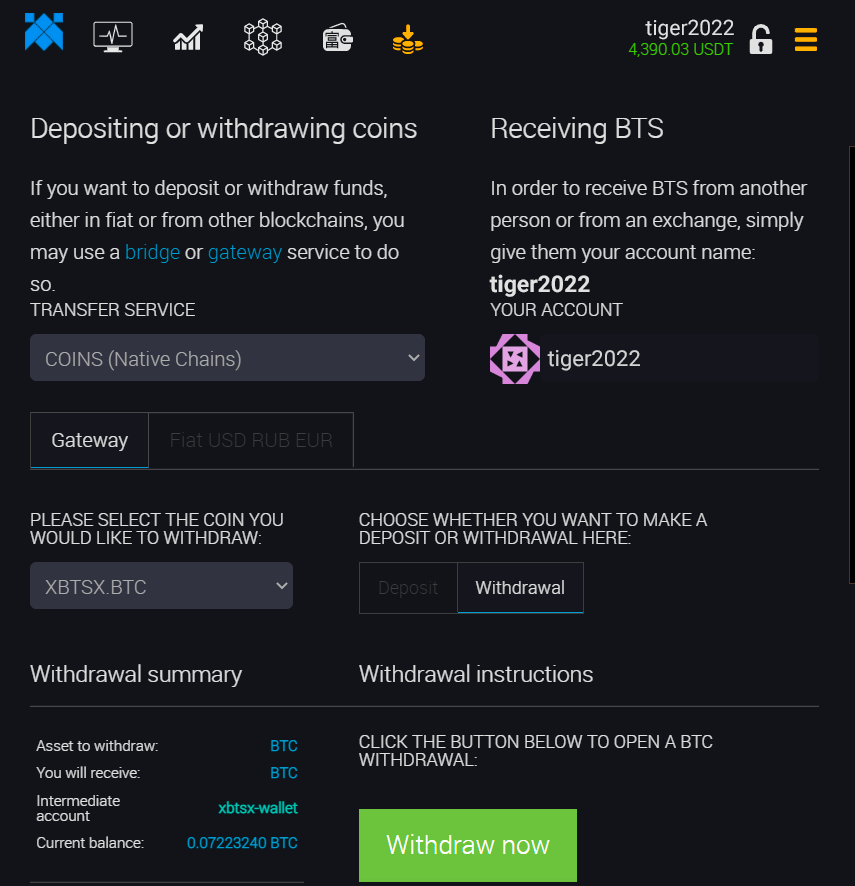 Safe asset holding
Hold your cryptocurrencies in your personal safe wallet. Only YOU have access to Your Account! All the assets are safely kept in a "cold storage" system, protecting users from any possible risks.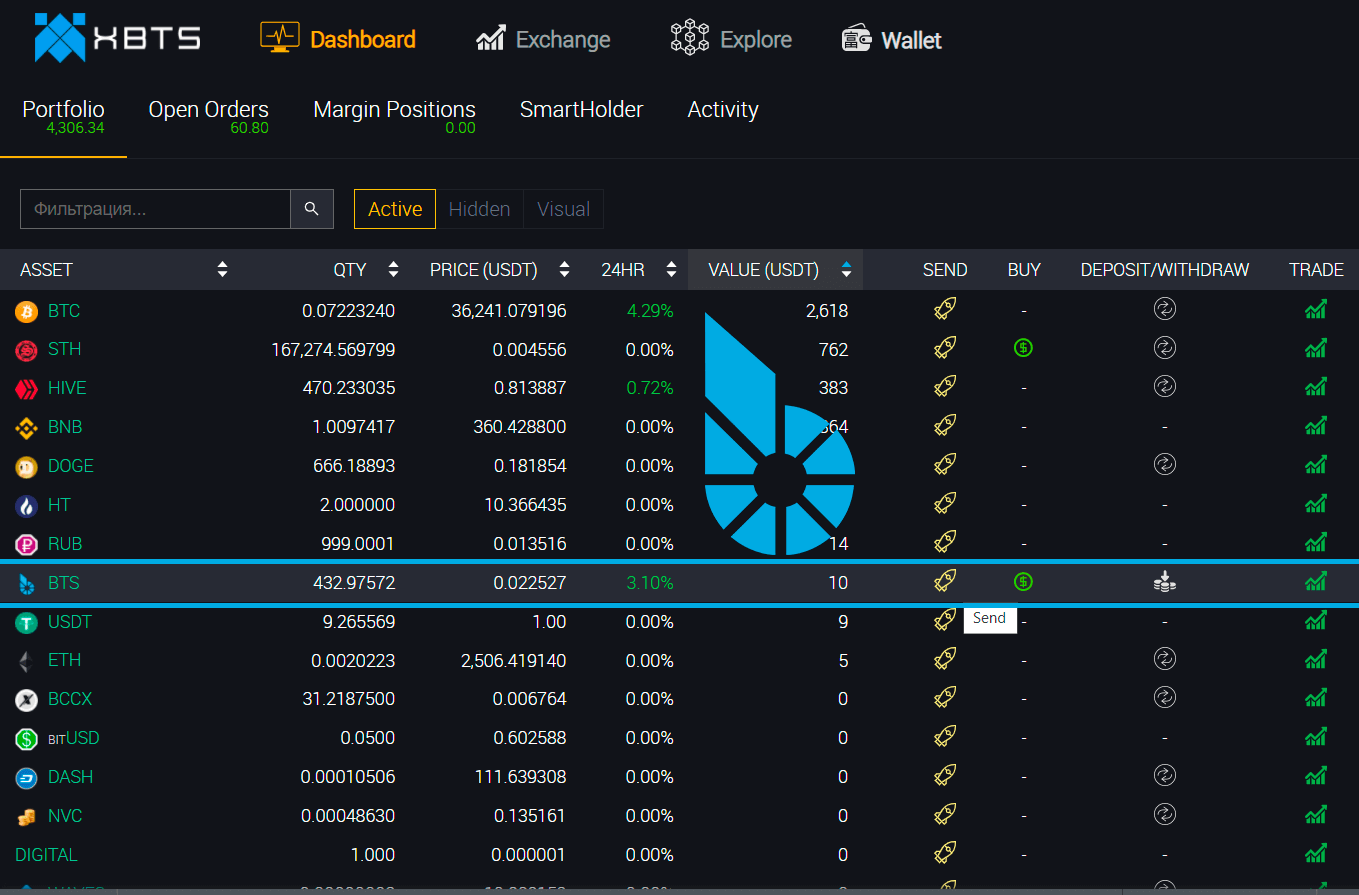 BTS Deposit and Withdrawal
BitShares BTS deposit and withdrawal differs from other cryptocurrencies because BTS is the core coin of BitShares blockchain. When depositing BTS to XBTS DEX in BitShares, always fill in NAME of your account at XBTS exchange.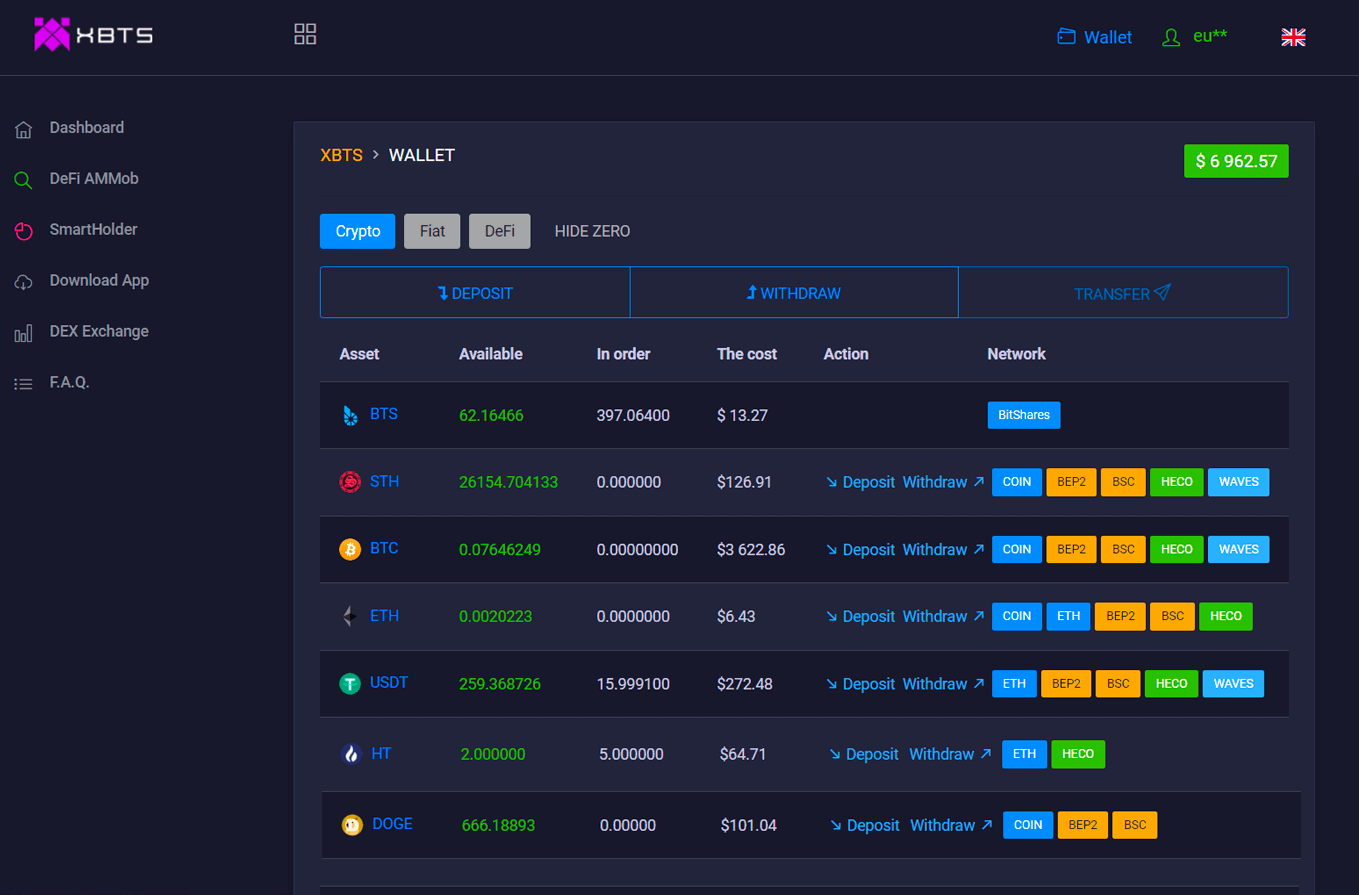 Assets Deposit and Withdrawal
Quick deposit and withdrawal of cryptocurrencies to/from native blockchains. Transfer of cryptocurrencies to exchange blockchains via a Cross-Chain with lowest fees. Deposit of cryptocurrencies at XBTS with no fees. Choose an asset and a blockchain for transfer in XBTS Dex or DeFi interface.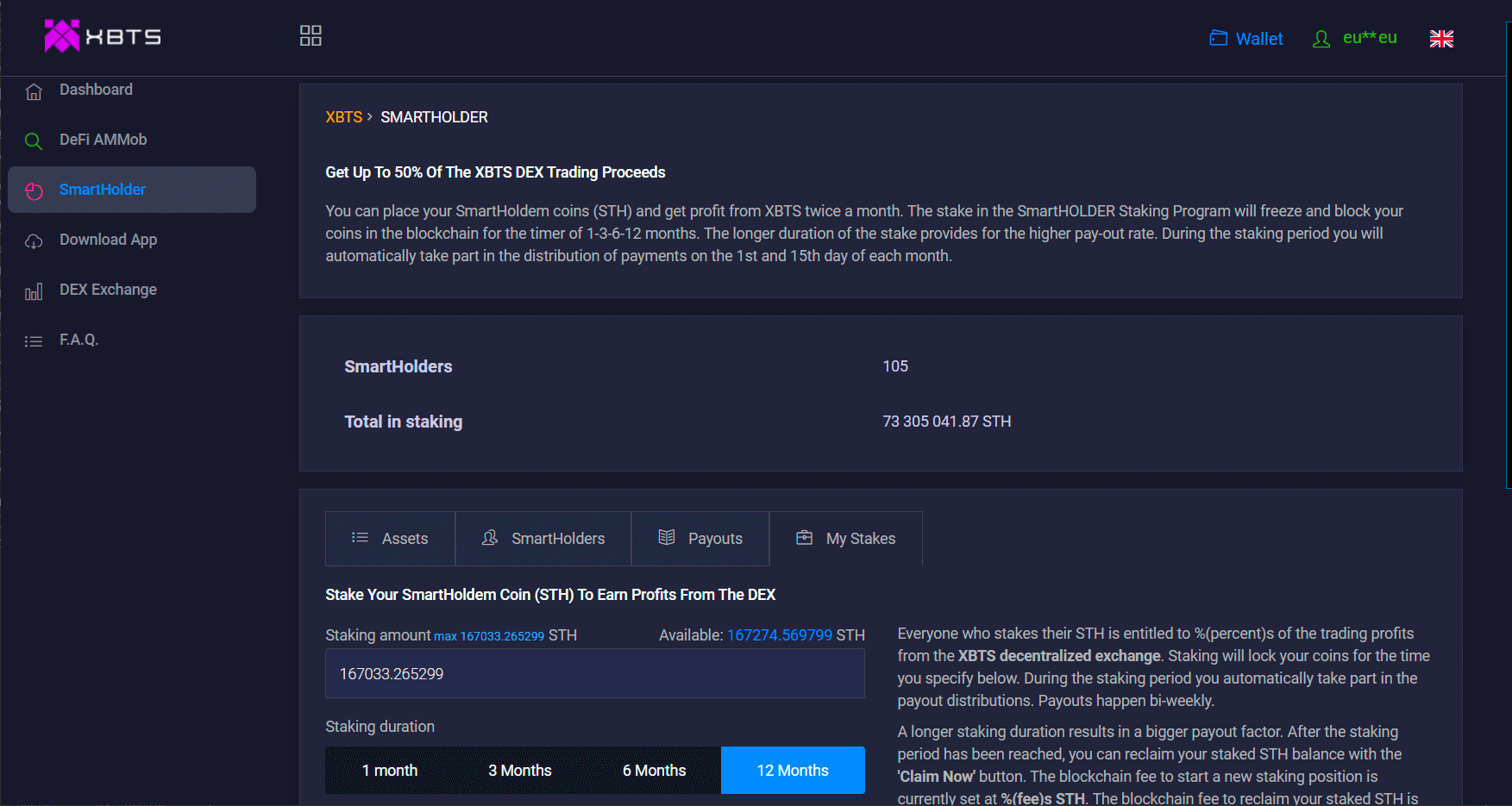 SmartHolder Staking
Earn up to 50% of XBTS DEX trade profit. SmartHoldem coin (STH) allows gaining profit from XBTS. During staking period, you are taking part in distribution of payments on 1st and 15th each month. Payments are done in cryptocurrencies traded at the exchange: BTC, USDT, HIVE, EOS and etc.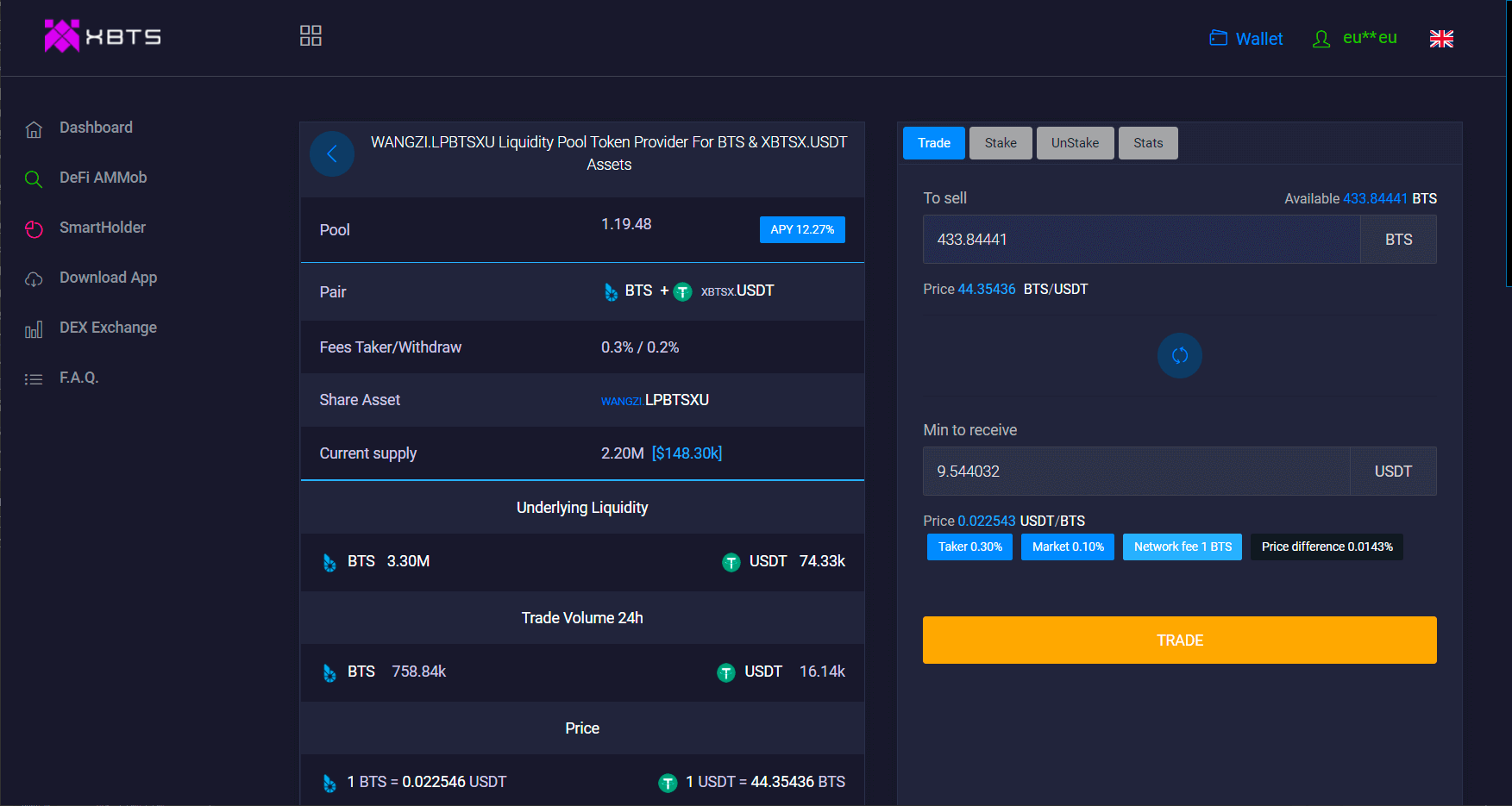 DeFi liquidity pools
XBTS DeFi AMMob is a DeFi with Automated Market-Maker of Order Book used for instant swap of trading pairs with low fees. Become a Market-Maker and quickly swap assets in market price and earn fees.
Start trading now!
Register account in a blockchain just in 25 seconds!
Boost your trade!
Welcome to the Decentralized platform XBTS!
Sign up
Start trading just in a few minutes!